Secrets of the Sands
is Leona Wisoker's debut novel, first of the
Children of the Desert
series. Book came out last year in 2010, and it's published by Mercury Retrograde Press.
Secrets of the Sands
was one of my favorite reads last year, and if there's one book out there that I think should be read, or at least tried, by more people it's this one.
The most important aspect of this book is that it was quite evident that Leona Wisoker is a very talented and skillful writer. But don't take my word for it since where it really matters, I don't know shit about writing. Yet, when you stumble upon a skillful writer you can just tell they're good. The second most important thing of this book is that once you're done with it, you can tell that a lot of care has been put into it's creation. The paperback felt of high quality, and at the end of the novel the author includes a bunch of extra material to enrich the world building.
Description:
"Cafad Scratha, a powerful desert lord with a persecution complex, believes everyone is lying to him. When his obsession collides with the king's efforts to rebuild the shattered realm, the orphaned street-thief Idisio and the king's emissary Alyea become pawns in their multilayered game. The secret world into which Idisio and Alyea are drawn will not only change their lives: it will change them."
I don't know if the offer is still there, but when I bought the paperback, it came with an option to "buy" a free electronic copy of the novel, so that should interest some.
Don't have much more to say at the moment since I read it last year and the details are quite fuzzy, but here's a better detailed review by
Fantasy Book Critic
which should be more useful. In all, the book should have something for everyone a bit of action, a bit of romance, some political intrigue, magic, mystery, suspense. And while the plot itself might not work for everyone, I think I can almost guarantee that at the very least you will go away thinking that you read something well crafted in some manner.
By the way, the cover art above was done by Michael Sullivan (if not mistaken), who has become quite the interesting success story with his own writing. Haven't read him yet, but many have done so, so also worth the look.
The sequel to
Secrets of the Sands
came out earlier this year, titled
Guardians of the Desert
, but I haven't read it yet. Here's the cover: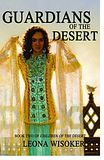 Where to buy:
Secret of the Sands Paperback on The Book Depository
Guardians of the Desert on The Book Depository
You can get more info on
Leona Wisoker's website
.
Here's the SFFWorld discussion thread:
http://www.sffworld.com/forums/showthread.php?t=25998